A COMMITMENT TOOUR COMMUNITY
Client Spotlight - Alicia Zhao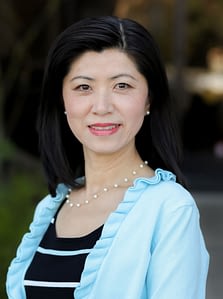 Alicia Zhao came to the United States for college shortly after the Tiananmen Square massacre in June 1989. It was a hard decision for her parents, as she was their only child. But they thought it would be better for their daughter to live in a country with greater freedom. In those days, there was no Internet or text messaging, and overseas phone calls cost $5/minute, so family communication was mainly via snail mail. It took up to two weeks to get a letter across the ocean.
Alicia's father, who was heading education reform at a college in China, thought international business would be a good major for her to pursue so that later she could work for a multinational company and visit China (and them!) often. Alicia graduated with a master's degree in international business from a top MBA program. She landed her first job at a Fortune 500 company in the Midwest in her chosen field. In 1999, Alicia moved to San Francisco and worked as an international marketing manager for an e-commerce software company.
In November 1999, Alicia was on a business trip in Hong Kong and read in the local newspaper about a protest against the illegal arrest of Chinese people who practice the Buddhist meditation Falun Dafa. Alicia herself had experienced physical improvement from this meditation, so this piece of news caught her attention. She decided to go back to Hong Kong during the Christmas break to look into it. She was thrown into a Chinese detention center for two weeks just for meeting with local Falun Dafa practitioners. When she was finally released, her passport was stamped with a restriction that she could not return to China for 10 years.
This prompted her career change into the mortgage industry. Alicia became a licensed full-time mortgage consultant in 2002. She incorporates the principles of her meditation practice (honesty, kindness, and patience) into her professional work. Her business comes solely through referrals from clients, who rave about her to their family, friends, and colleagues. Alicia is recognized as a knowledgeable, caring, and trustworthy mortgage consultant by many of her clients in her LinkedIn reviews.
As a mortgage broker with over 50 lenders, Alicia excels at finding creative solutions for many clients who were turned down by the big retail banks which tend to have rigid underwriting guidelines.
In the past, Alicia hosted TV shows where she interviewed experts who shared their real estate investment knowledge and market timing strategies, with a goal of helping viewers to build wealth through real estate investments. She launched her YouTube channel earlier this year to share timely and educational information on mortgage planning.
Outside of the mortgage business, Alicia volunteers her time to improve the human rights situation in China and helps to rescue victims of China's religious persecution by working together with human rights organizations and members of Congress. Alicia also enjoys traveling with her family to foreign countries where she appreciates the different cultures, architecture, and languages. With the limitations on traveling this year, Alicia currently spends her weekends hiking and meditating, and enjoying live classical music played by her 13-year-old son, who is an aspiring young pianist.
FIND OUT HOW KARP CAPITAL CAN HELP TODAY! 1.877.900.KARP (5277)
For our annual Giving Tuesday donations, we wanted to support organizations that are helping people directly affected by the coronavirus pandemic. We elected to support the following organizations for the work that they are doing around food insecurity, wildfire relief and a difficult business environment: Becoming Independent, Rotary Club of Sausalito's Meals for Seniors Program, SF Marin Food Bank, Second Harvest of Silicon Valley, The Renaissance Entrepreneurship Center, Women's Daytime Drop-In Center, Adopt-a-Family Marin and the California Community Foundation's Wildfire Relief Fund.
We're thankful for the opportunity to support communities around the Bay Area and do our part in helping those in need.
Becoming Independent — also known as BI — helps people with developmental disabilities live meaningful and productive lives. We are a nonprofit community benefit organization serving Sonoma, Napa and Solano counties with a purpose of elevating human abilities for the mutual benefit of our Community.
The Women's Daytime Drop-In Center (WDDC) is a 501 (c)(3) non-profit program, in the San Francisco Bay Area, empowering women and children to move from the streets to a home by providing ongoing and intensive counseling, case management services, daily support groups, a comprehensive children's program, a variety of referral services, and a transitional housing program for four single parent families.
Headlands Center for the Arts is a multidisciplinary, international arts center dedicated to supporting artists; the creative process; and the development of new, innovative ideas and artwork. Headlands artists programs support artists of all disciplines—from visual artists to performers, musicians, writers, and videographers.
The SF-Marin Food Bank has been servicing the Bay area for over 30 years. Their goal is to end hunger in San Francisco and Marin. The Food Bank feeds over 140,000 per week and continue to work towards closing the gap and filling 35 million 'missing' meals.
San Francisco Trial Lawyers Association (SFTLA) promotes civil justice through education and trial advocacy. For over fifty years, SFTLA has served the needs of the plaintiff's bar.
Delivering over 100 programs annually, the association is dedicated to connecting human resources professionals with practice resources, leading California-specific training, legal and legislative developments.
The Sausalito Chamber of Commerce Promotes, Represents & Supports Sausalito Businesses and Residents Providing Referrals, Networking & Marketing Opportunities.
The National Association of Plan Advisors, an affiliate organization of the American Retirement Association, was created by and for retirement plan advisors.
WITH 25+ YEARS OF EXPERIENCE IN THE FINANCIAL SERVICES INDUSTRY, THE KARP TEAM IS UNCOMPROMISING IN THEIR COMMITMENT TO HELP YOU REACH YOUR INVESTMENT GOALS.
At Karp Capital we understand the intricacies of business operations, and the demands placed on business owners.
Access a true one-stop-shop for all of your financial needs and information, including the convenience of a real-time, at-a-glance snapshot, incorporating every element of your financial picture.
We offer an array of services that will help you make sense of your financial picture today and help you plan for tomorrow.
Wealth Strategies and Planning
FIND OUT HOW KARP CAPITAL CAN HELP TODAY! 1.877.900.KARP (5277)